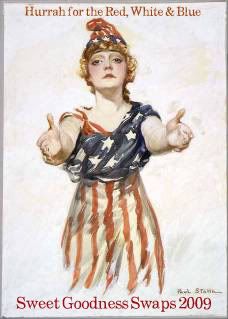 Recently I participated in a "Hurrah for Red, White and Blue Swap" sponsored by
Sweet Goodness Swaps
. This is the second swap I have participated in with Sweet Goodness Swaps. This time my partner was Susan from NJ, not sure if she has a blog because I was never given an addy. Here are the goodies I received....This when I just opened the box.
I was ready to explore the box of goodies. Here is the items laid out on my dining room table.
I promptly hung The Star and Flag decorations on my Front door. Which helped my home look ready for the holiday and the BBQ that would be taking place here.
The Flag on the outside and the Star on the inside. As you can see they match perfectly with my White door! I am so glad these arrived in time!
And last but not least the Pewter Stars that are now hanging in my Kitchen window. I love this piece! Very all American!!
I sent goodies too! Here they are in all their glory.
The "God BLess Our Family" frame was an Awesome find, there are some vintage coasters, some USA tattoos for her son, a White table cloth with Red and Blue weights, Alphabet stickers, Ribbon, pens, post it notes, a little pail to hold fun things, an American Flag hanging decoration, sprinkles for cookies or cake, a car magnet and last but not least a Journal that I made.
I love making these Journals. They are alot of fun. The paper I used for the cover was the last one on the shelf and I was really sad about that because I really loved it! I fell in love with the butterfly when I saw them in the store! I even made a pocket in the inside cover which can hold special items or be a place to hold one of the Pens I sent her!
I am so happy with the way that this Journal turned out and really hope Susan enjoys it too!
I am hosting my first ever Swap and hope that many of you will join! Come by next week on the 7th to sign up for a fun Wine Themed Swap! I love Wine and I know many others do too! Please take the button and share it on your blog too!